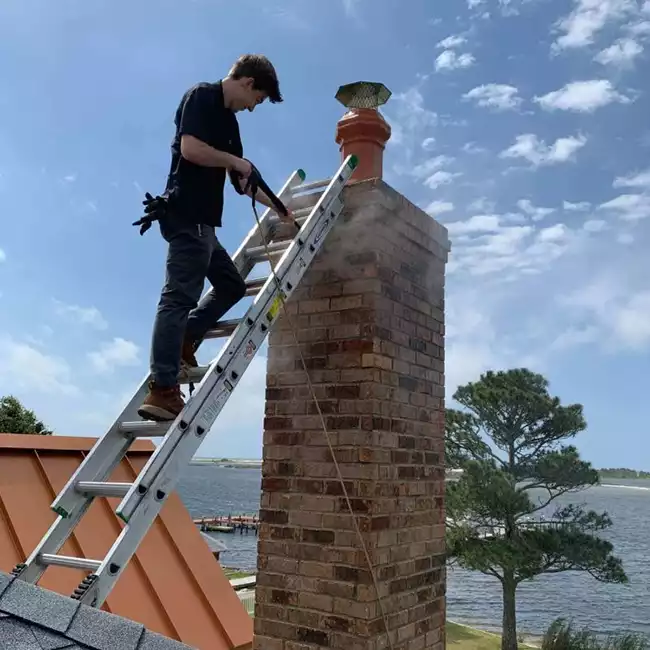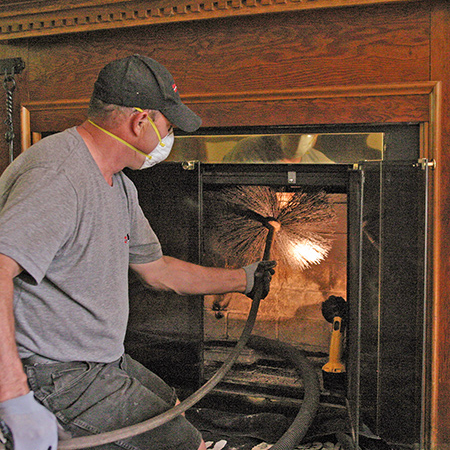 How Long Will it Take?
Depending on how many floors you have, how big your fireplace is, and how dirty it may be, as well as how prepared the area is will depend on how long the process will take. A sweep could take anywhere from 30 minutes to 1 ½ hours. When your chimney sweep arrives it would be time-saving if you have removed everything out from in front of the fireplace including rugs,  and any decorations off of the mantle, as well as moving any outdoor furniture or planters away from the area that the sweeps will be placing their ladders to gain access to the chimney from.
Your Process?
Our highly trained technicians will ensure your fireplace is well cleaned and your possessions are protected. With our clean guarantee, you can rest assured that your fireplace will be clean and safe to burn-in. We use state-of-the-art equipment to clean your fireplace and chimney from top to bottom. We use HEPA-certified industrial ash vacuums to remove the soot and creosote before it even hits the bottom of your fireplace and leaves your house smelling good and in the same pristine condition as we found it. We are licensed, bonded, and insured, to protect you as our customers. We have been doing this for over thirty years and have built our reputation by doing a job well done. We perform a full sweep of your chimney and fireplace, if there are two sweeps one will access the roof and the other will bring in a HEPA-certified ash vacuum. The vacuum nozzle will be placed in the smoke chamber by the smoke shelf so the ash, soot, and creosote that is being pushed down by the sweep on the roof will not enter your home. They will cover your furniture with tarps, wear booties and masks, and will use ladder guards to ensure they don't lean against your gutters. They will vacuum out the fireplace, check the ash dump and make sure everything is as clean as they found it. We back this up with a clean guarantee so you don't have to worry about cleaning up after our sweeps have left. They will then clean up by removing tarps and taking their equipment to the truck. After a while, the dust inside the chimney that was not gathered by the vacuum will settle and no matter how long we keep the vacuum on or how hard we try this will always happen, there will be a small amount of debris that will drop out when you open your damper to use the fireplace. It does not mean it was not cleaned properly, it is a by-product of air flowing in your chimney moving around particles that the vacuum could not get out of the air. At that point, your sweep is finished cleaning the fireplace and will answer any questions you may have for them and take your payment.